Hands-on PowerApps training is coming soon to a city near you! Designed for current or potential Microsoft customers, App in a Day (AIAD) is an all-day interactive training facilitated by a certified Microsoft Partner. Confluent is gearing up for a PowerApps Roadshow in the coming weeks to lead AIAD sessions nationwide. Nine sessions are planned in the coming weeks. We'll continue to add dates and registration links to the list below:
Tuesday, April 18 in DC | CLOSED
Wednesday, April 19 in NYC | CLOSED
Wednesday, May 3 in Dallas | CLOSED
Friday, May 5 in Houston | CLOSED
More dates and cities to come!
Leveraging PowerApps, Flow, and the Common Data Service, attendees will learn how to build custom apps that run on mobile devices and securely share those apps within their organization. Here's a sample agenda: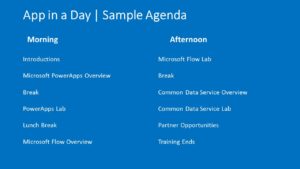 For those who are familiar, these events are similar to Microsoft's popular Dashboard in a Day workshops for Power BI. Held at regional Microsoft Technology Centers, AIAD workshops include lunch and are free to attend. Space is limited, and online registration is required.
Check back soon for additional dates and locations!
[divider line_type="Small Line" custom_height="20″]
Need On-Site PowerApps Training?
[button color="extra-color-2″ hover_text_color_override="#fff" size="large" url="http://beconfluent.com/powerapps-solutions/" text="Choose Your Plan" color_override=""]